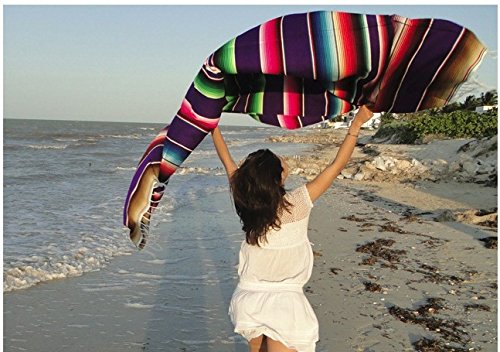 They are seen as a symbol of home feeling and comfort . These highly adorned blankets with the vibrancy of dazzling colors and stripes are now in huge demand.
They were once sold by the huge number of street sellers who would display the artwork with proud and affection.
Today, the San Marcos blankets have a special place in all home decor activities. The patterns along with the images of lions, pandas and Aztec warriors represent the finest artwork of one of the oldest civilizations on earth.
One of the current sellers whose childhood revolved around the street selling activities feels a little overwhelmed witnessing the current demand for Mexican San Marcos blankets. Now that she owns a huge collection herself the work is more than satisfying. It is like living with art, every single day.
She recalls the day when her mother placed one blanket with the exquisite tiger design on the bed. The giant animal carved in various shades of black, gray and white made her think more about the traditional Mexican style of work each day.
What made a special point was that most Latinos have a special bond with it right from the childhood.
The plush and thick material of Mexican blankets brings a special sense of warmth. You can literally find thousands of designs with the most elegant color combinations possible. They have been part of almost every Latino household for the past 40 years.
The advent of creative designers and rapid sharing of artwork has led to immense amount of customization. They have led to a grand transformation. Today you can choose from designer bed covers, seat covers for cars, cushion covers or dinner table coverings. In fact, they are among the most sought after gift items for occasions such as birthdays, Christmas and baby showers.
If you are with a Mexican and mention your fascination with San Marcos blankets they would know exactly what you are talking about.